is an award winning multimedia writer, producer and rights clearance expert drawing on more than 20 years experience in Television and Film, Radio and Print. A protean media man.
Stephan performs music supervision, finding or comissioning the perfect tune to support story telling. He oversees all manner of Licensing for network television, studio features and independent films, broadcast and internet advertising campaigns, multimedia books and other platforms. Television production credits include network documentary, newsmagazine, reality TV and news parody. Radio producer / reporter credits include long form investigative reports and arts features for National Public Radio and the AP Radio Network. Digital new media works include website and content creation using WordPress and Drupal. Michaels is adroit at deploying SEO, devising messaging strategies and utilizing Photoshop and video editing to accent storytelling.
Recent Credits can be found here.
Writer / Photographer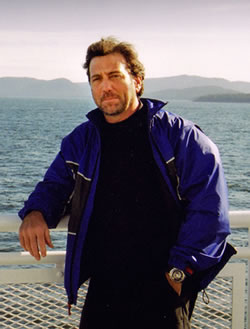 Contribute long-form feature articles with accompanying photography, editorials and opinion pieces on subjects ranging from legal and business issues, to ecology and animal behavior, to music and human interest. Publications include The Los Angeles Times, The San Francisco Chronicle, Billboard Magazine, The Seattle Times, The Santa Barbara Independent, Crosscut.com, All About Beer Magazine, Northwest Magazine and The Peninsula Daily News.
Communications Specialist — "Pike For Bellingham"
Consultant and media strategist to Bellingham Mayor Dan Pike's communications team. Edited television ads, designed graphics, contributed to website design, created content, edited photography, consulted on SEO and ad-word strategies, and spoke publicly at mayoral forums and on TV spots.
Now Showing / Made You Laugh
Contributing Writer / Licensing Manager
Wrote and edited chapters, edited narration and performed script supervision for the Andrews McMeel Multimedia books with DVD: Now Showing, Unforgettable Movie Moments — a New York Times Best Seller hosted by Dustin Hoffman — and Made You Laugh, A History of Comedy — hosted by Carl and Rob Reiner. Negotiated all film and television clips; oversaw talent and music licensing.
Flix Mix
Universal Pictures
Production Consultant / Manager Rights & Clearances
Production Consultant on the Flix Mix / Showtime documentary "Masters Of Horror," featuring Wes Craven, John Carpenter and Guillermo del Toro. Oversaw licensing and clearances for the Flix Mix division at Universal Pictures.
Arrest & Trial
Universal Television – Wolf Films
Manager Rights & Clearances
Oversaw acquisitions and clearances on the Studios USA /Dick Wolf reality program hosted by Brian Dennehy. Brought in my department $300,000 under budget.
Roswell: Cover Ups And Close Encounters
Sci Fi Channel
Contributing Writer / Footage Acquisitions
The Gorge Games
Outdoor Life Network
Field Producer / Cameraman
Produced and field directed on three one-hour extreme sports specials for OLN.
Save our Streets
Syndicated
Field Director (2 Segments)
The Beef
MTM Network
Associate Producer on the news parody comedy specials hosted by Tim Conway.
Why Planes Go Down
FOX
Field Producer: Documentary on Airplane Safety hosted by Gillian Anderson.
He Says / She Says
MCA Universal
Producer: Six Episodes of the "Battle Of The Sexes" comedy talk show.
The Crusaders
Buena Vista Television
Segment and field producer for syndicated weekly newsmagazine aired on NBC O&Os nationwide.
60 Minutes
CBS News
Associate Producer on an investigation into "Interrogation Tactics."
Caught In The Act
dick clark productions
NBC
Senior Researcher
KCET – TV Ch. 28, Los Angeles
— PBS
Senior Researcher / Field Producer
National Public Radio / AP Radio / Marketplace
Freelance Producer / Reporter to NPR's Morning Edition, All Things Considered and Weekend Edition, PRI's Marketplace, and the Associated Press Radio Network.
Awards
Greater Los Angeles Press Club Journalism Award of Excellence
" Best Entertainment Reporting on Los Angeles Radio "
Member — Society of Environmental Journalists — since 2006