Ladies and German Shepherds,
With the heaviest of hearts, I said a teary farewell to my best friend Luna last week.  The grief is simply boundless, but so also is my gratitude to everyone who supported her with good wishes, goodwill and expert care.  Last summer, we saved her leg, and her life.
Just a week ago Luna was out trotting along her favorite trail, drinking long and deep from a cold stream and having fun.
https://www.youtube.com/watch?v=CgcXndaCHOs
We were able to give her a good quality of life these past few months. She maintained an excellent attitude and defied the odds, but a few days ago the cancer overcame her and she suddenly became too weak to carry on.

Early in the morning of February 9th, Luna got up at 4AM and woke me, walking around the kitchen with renewed energy.  We went outside and she walked the length of the big yard through snow a half-foot deep with no great effort.  She did her bidness and then walked back but paused at the mid point and gazed out onto the neighbor's meadow as if she was looking for something.  It was cold but I let her look for about half a minute and then said, "come on, girl, let's go inside."  Luna turned reluctantly and walked up her ramp with ease and I thought, "What is going on here?  Is she bouncing back?"  Then she walked into the den and collapsed.  That was it; she was spent.  Luna slept almost all morning and throughout the day.  She was never in any pain and passed peacefully at home that afternoon.
I wish I had let her look out over the pasture much longer.  My sweet Luna girl knew she was dying and was taking one last look.  And I didn't get that until now.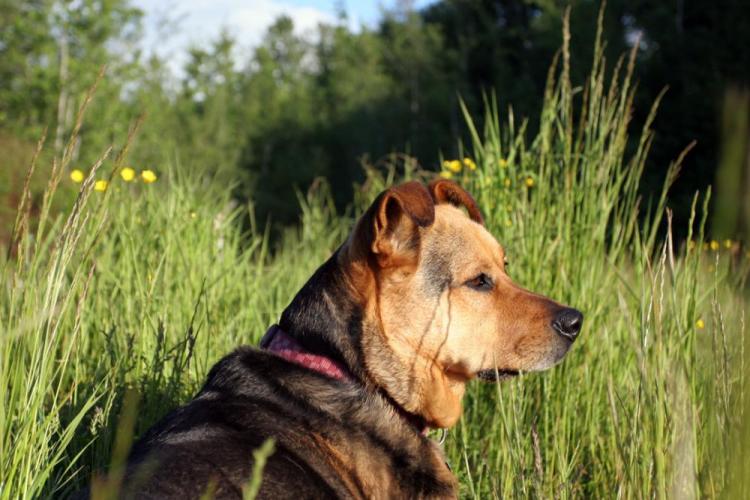 After she died, I placed Luna on a bed of roses.  It had been raining all day.  I walked outside
and there was a thick double Rainbow to the east.  A Rainbow Bridge for my Luna girl.