A variation on the Stuffed Fresh Pasilla Chile recipe by California chef Cindy Pawlcyn.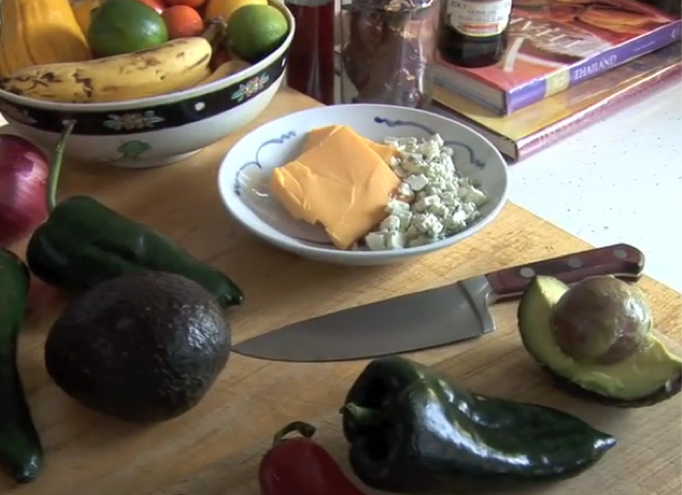 Ingredients
Pasilla Chiles – they call 'em poblanos in Washington State, but those aren't as spicy or as flavorful as the pasillas you will find in California or the Southwest.  As a rule, the more curved the chile, the hotter.  (Note: this is my rule; it might be bullshit.)   Ripe Avocados   Olive Oil   One big sprig Cilantro   Sweet Red Onion  Sherry Vinegar   Cheddar and Gorgonzola.  You can experiment with different cheeses to suit yer taste, but start with these.  Otherwise, don't blame me.
Steps
1. Blanch the chiles in a pot of boiling water for one minute on each side. Remove from pot and submerge in cold water. This will first soften them, and then stop them from over-cooking and splitting.  Open a bottle of fortified red wine before moving on to step two.
2. Cut the top off the chile at the curve in the bell. Cut at an angle – this makes it easy to fit the top back into the chile after you have finished step three. Remove all seeds and begin drinking the wine.
3. Stuff the chile with grated cheddar and crumbled gorgonzola and pack it tight to the end, without breaking the skin.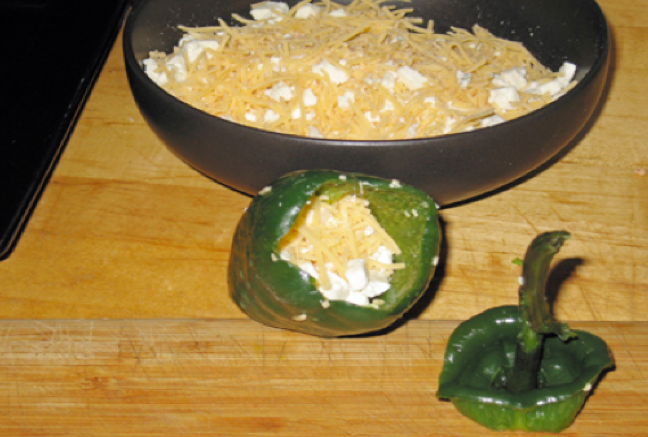 4. Halve four or five Hass avocados and cut into cubes of approximately one square inch. In a mixing bow, add 1⁄4 – 1⁄2 cup coarsely chopped cilantro, 1⁄4 cup finely chopped red onion, and drizzle with extra virgin olive oil. Add two tablespoons sherry vinegar. If you do not have sherry vinegar, take a nice swig of red wine and relax.  You can substitute rice wine vinegar with just a dash of red wine or balsamic vinegar. Toss the avocado mixture to create the avocado salsa. Do not mush; we ain't making guacamole.
At this point I highly recommend taking another snort of wine and listening to some tunes. B-Tribe's Fiesta Fatal fits nicely.
5. Place the chiles on a broiling pan and broil at high heat – or grill them over mesquite charcoal, until the skin is well browned on both sides.
6. Spoon out the avo-salsa into the middle of a plate, just enough to make a bed for the chile. Slice the chile with a sharp knife, a bite size at a time starting at the tip. You will find the bell is also quite tasty. And, if you're a woos, you can peel off the browned skin.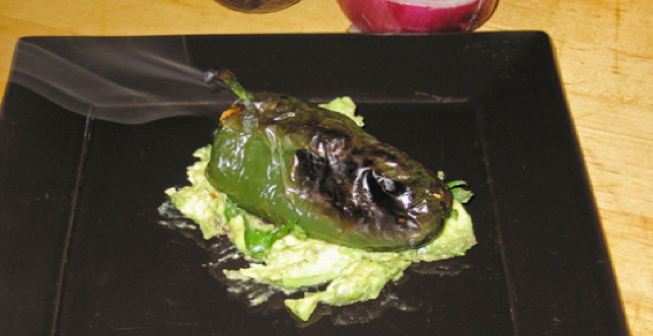 Note: steam emanating from chile makes it look like it's racing across the plate.
 I sometimes substitute a red & green cabbage pico de gallo with morita pepper for the avo salsa.  Secret ingredient — throw a little banana or pear into the pico to make it pop.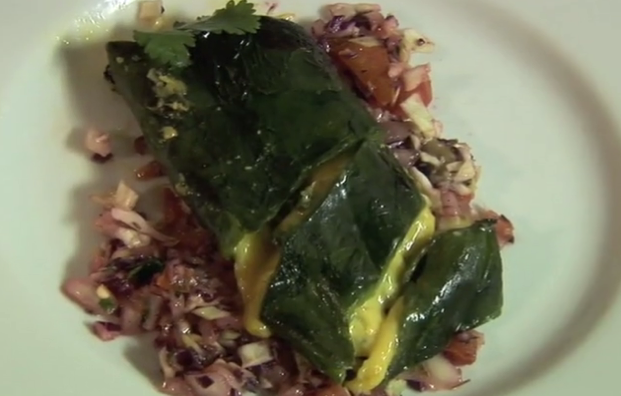 Recommended wine pairing: Herman Story ~ On The Road Grenache or Nuts & Bolts Syrah
Desperada Wines ~ The Pursist Pinot Noir  or  Borderlands Bordeaux and Rhone varietals
Recommended beer pairing: Lagunitas Little Sumpin' Wild  or Anchor Liberty Ale
Recommended Tunes
David Poe ~   God and The Girl     Nathaniel Talbot ~ Here in The Fields   Anything by Robben Ford
Sara Tavares ~ Balancê     Nicola Conte ~ Rituals     Luciana Souza ~ Answer to Your Silence