Bear Spray and Dirty Laundry
 I kayaked in the strong current of the deep fiord while Jennifer slept in, and I was startled when a killer whale surfaced only twenty yards away.  "Don't worry," my guide assured, "these are resident orcas and they only eat fish."
Elated from the experience, I returned to the cabin to find Jen had concocted a smoked salmon and mimosa breakfast.  We spent that afternoon hiking beneath the tall canopy of ancient cedars in one of the provincial parks, fed chestnuts to wild deer, and made love on the soft peat-brown forest floor.  We sipped a crisp sauvignon blanc in the beachside hot tub later that same evening, an orca spraying from its blowhole in the misty bay.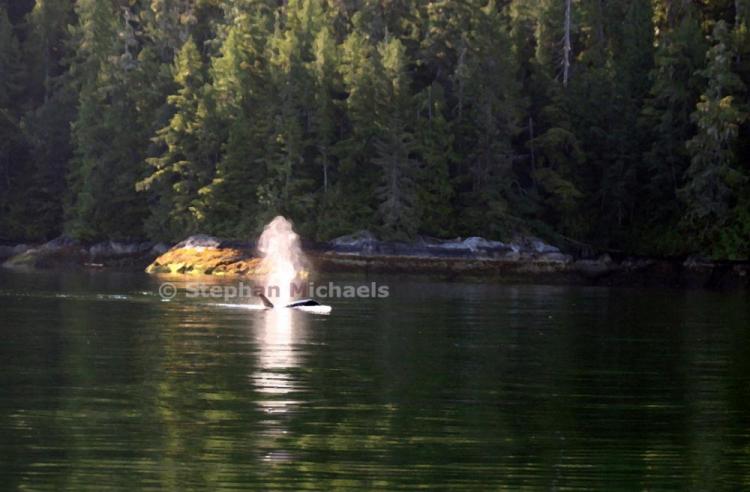 The woman who ran the lodge advised us at check-in that the jacuzzi was not clothing optional, out of respect for the other guests, but my free-spirited companion thoroughly disregarded that instruction.  Arching her back and heaving her breasts upwards to the sky, Jen reminded me, "This is Canada for Christ's sake."
That night, dinner at a cozy little Italian place on the wharf turned into a calamity of errors, like a montage of awkward scenarios from Curb Your Enthusiasm.
For starters, the young waitress woefully overshot the glass and poured water on my lap. I strained to see the humor while Jennifer laughed her ass off.  The elderly couple at the next table gave me disparaging looks as I tried to dry the crotch of my trousers with a napkin.  Our server then brought out the wrong orders, but maintained she had them right.  Famished, we let it go and ate the food she delivered.  The meal was excellent, but the portions were so ridiculously huge, you couldn't help but spill food onto the table, and, in my case, all over my shirt.
"I hope you realize you're wearing your dinner," Jennifer scoffed.  "Yes," I said drolly, looking down at my marinara splattered ensemble. "I see no reason to leave any piece of clothing out of the action at this point."